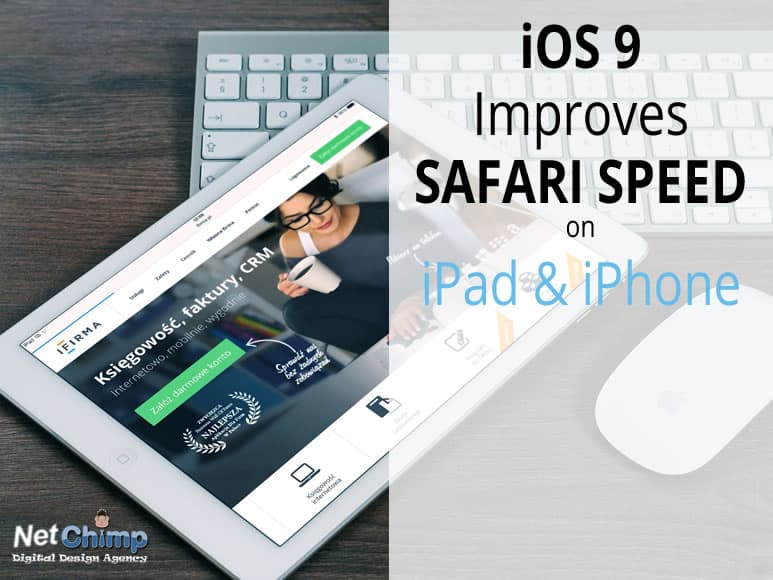 iOS 9 comes with a bunch of enhancements many of which are designed to increase speed of your iPad and iPhone while using less battery power. This makes sense – having a faster device is always welcome – but it is even more important after it was discovered that the iPhone 6S has a smaller battery than the iPhone 6 it replaces.
One area where Apple has found ample opportunity for speed enhancements with minimal effort is within it's web browser, Safari. Their thinking is that Ads displayed on websites slow the browsing experience down. The extra time and effort taken to download these ads on to your iPad or iPhone also use up valuable power. So in order to kill 2 birds with one stone they are introducing content blocking.
The idea is that you will use content blocking to stop Ads appearing so the perceived speed of Safari on iPad and iPhone will improve significantly.
What is content blocking?
Apple describe the new content blocking feature in iOS 9 as follows
The new Safari release brings Content Blocking Safari Extensions to iOS. Content Blocking gives your extensions a fast and efficient way to block cookies, images, resources, pop-ups, and other content.
What Apple is saying is that Safari will allow you to block all the marketing stuff that you find on websites. This would include ads, cookies that track your behaviour, and other annoying elements that appear on many websites.
So no Ads in Safari or anywhere else on iOS 9
iOS 9 is actually very clever and doesn't just have the ability to block Safari Ad's.
Content blocking in iOS 9 works on a system-wide level. This will allow Apps to block Ads in your iPhone and iPad – regardless of where they are displayed. For example you may have seen Ads in your facebook or Twitter Apps on your iPad. However these could be blocked completely on the iPad and iPhone. So no more Ads anywhere on your device!
What will content blocking mean for your iPad or iPhone speed?
It takes far longer to load a website on an iPad or iPhone than it should.  This is due to the Ads, trackers, popups and other marketing stuff loaded on to many websites. This extra content drains your battery and eats your data allowance.
With content blocking your web browsing will be faster. Much faster. Your battery will last longer and you will use less of your data allowance.
Owen Williams over at TNW has been trying out a brand new content blocker on iOS 9 in advance of the official release to see if it made a difference. His results were incredible.
Below you will see the test when loading the imore.com website.
But don't get too excited yet – There are many things that advertisers can do to counteract the effects of ad blockers.
"I suspect we'll see the industry adjust to try to circumvent ad-blocking technology," said Andrew Frank, analyst at Gartner. "It'll be a game of cat and mouse."
There are several things that advertisers can do to counteract the effects of ad blockers. Frank said there are ways to hide the source of an ad, circumventing blacklists. Publishers can also embed the content on their servers, rather than hosting it elsewhere. The way most ad blockers work is through a blacklist system. Advertisements are typically embedded into a publisher's webpage.
Apple has a plan to sell its own ads
Don't believe for a minute that Apple has made this change out of the kindness of it's heart. Oh no, it has a plan.
Ever since the fall out with Google over the Maps licensing they have been trying to find ways to cut into their business. Firstly Apple produced it's own Maps App with mixed success back in 2013. Now they plan to get into the Advertising game via one of it's new Apps.
One of the new features of iOS 9 is the News App. And guess what? Apple is more than willing to sell advertising via their own News App to marketeers. So Apple is blocking competitors Ads in order to sell their own.
So it is not the end of ads on your iPad or iPhone. It is the end of competitors Ads. Sneaky, eh!
Did you find this enjoyable?
If you found this article enjoyable please take a moment to tweet, like, or share this article by using the buttons at the top of this page. I'd really appreciate it. 🙂
Also, if you are feeling extra generous please leave some encouraging feedback in the comments section at the bottom of the page. I love getting feedback from visitors. It encourages me to write more iPhone, iPad, and iOS articles.
Thanks for taking the time to read my website and I hope to help you again soon!
Get my Apple iOS 10 guide FREE!
Click the link below to signup for our guide showing you how the latest version of Apple's Operating System – iOS 10 – will work on your iPhone, iPad, iPad Mini or iPod Touch for free!
That's right, a free user guide showing you the new features.