If you type the wrong passcode on your iPhone  6 times or so you will see the "disabled" message.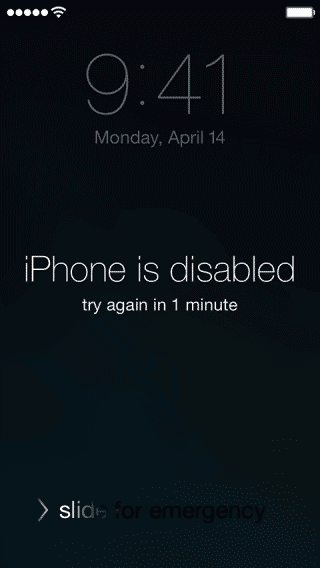 If you keep on trying to guess the passcode and get it wrong eventually the iPhone will say "iPhone is disabled, connect to iTunes".
Don't panic – you can unlock an iPhone if you forgot your passcode.
How to fix this error
The fix you need to unblock your iPhone passcode depends on your circumstances.
How to unlock your iPhone passcode if you don't have access to a computer
This fix will only work if you have installed the Find My iPhone App on your iPhone. You also need to have setup the iCloud backup service on your iPhone too (which is free to do).
1. Remotely wipe your iPhone using Find My iPhone. This will remove all of the data on your iPhone so only do this as a last resort.
2. Restore your iPhone from your latest iCloud backup. The video below explains how to carry out this procedure.
Considering upgrading to the new iPhone 6s or 6s Plus?
**The following text contains affiliate links and I will be compensated if you make a purchase after clicking on these links.
Before you splurge on such an expensive device, you might want to seriously consider upgrading your phone to the iPhone 6, instead. The iPhone 6 has many of the same awesome features offered by the iPhone 6s and 6s Plus. Yet, it's significantly cheaper — especially if you buy it through Gazelle Certified.
It's also important to consider that Gazelle Certified devices go through a 30+-point inspection process to ensure their quality and functionality. Plus, Gazelle Certified devices come with a 30-day return policy so you can test-drive the iPhone 6 to see if you like it. Lastly, you can get around those pesky carrier contracts because Gazelle Certified means no contracts. You can simply get a great phone at a great price without strings attached.
It's totally cool to upgrade, but upgrade smart so you don't spend a mint on a phone that may not live up to the hype.
Did you find this iPhone fix helpful?
If you found this fix helpful please take a moment to tweet, like, or share this article by using the buttons at the top of this page. I'd really appreciate it. 🙂
Also, if you are feeling extra generous after having your issue solved please leave some encouraging feedback in the comments section at the bottom of the page. I love getting feedback from visitors. It encourages me to find further solutions to those awkward little iPhone, iPad, MacBook, and Mac problems that we all suffer from.
Thanks for taking the time to read my website and I hope to help you again soon!
Get my Apple iOS 10 guide FREE!
Click the link below to signup for our guide showing you how the latest version of Apple's Operating System – iOS 10 – will work on your iPhone, iPad, iPad Mini or iPod Touch for free!
That's right, a free user guide showing you the new features.